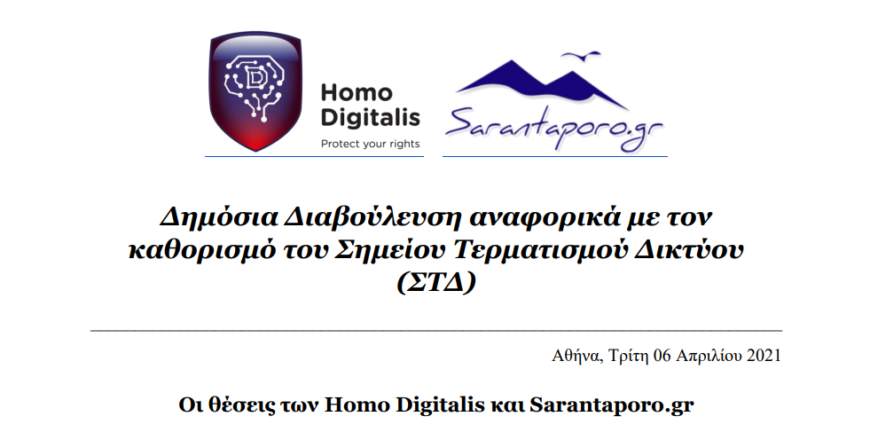 Created Date: May 03, 2021
Author: Homo Digitalis
Comment(s): 0
EETT Open Consultation: common positions of Homo Digitalis and Sarantaporo.gr
Today, Tuesday 6 April 2021, Homo Digitalis and Sarantaporo.gr submitted joint proposals to the open consultation of the National Telecommunications and Postal Commission (EETT). The consultation concerns the determination of the location of the Terminal Network Point.
If you want to know why the location of the Network Termination Point is important for all internet users in Greece, you can read the very interesting and detailed article by ELLAK.
In essence, it is about the freedom to choose a router in Greece.
With their positioning Homo Digitalis and Sarantaporo.gr stress that end users should have the right to use terminal equipment of their choice.
The same position is supported by the Open Technologies Organisation – ELLAK, the Consumer Association EKPIZO, as well as the European organisation FSFE with the submission of respective proposals.
The positions of Homo Digitalis and Sarantaporo.gr are available here.
Proposals can be submitted until Friday 7 May at 15.00. If you want to support the freedom of router choice in Greece, you can read the EETT call and submit your proposals.
Homo Digitalis and Sarantaporo.gr have been working together for more than a year to lay the foundations to combat the digital exclusion of remote areas and communities of our country from the internet and digital services and at the same time to give citizens the opportunity to be informed and educated about modern networking technologies and the safe and effective use of the internet.