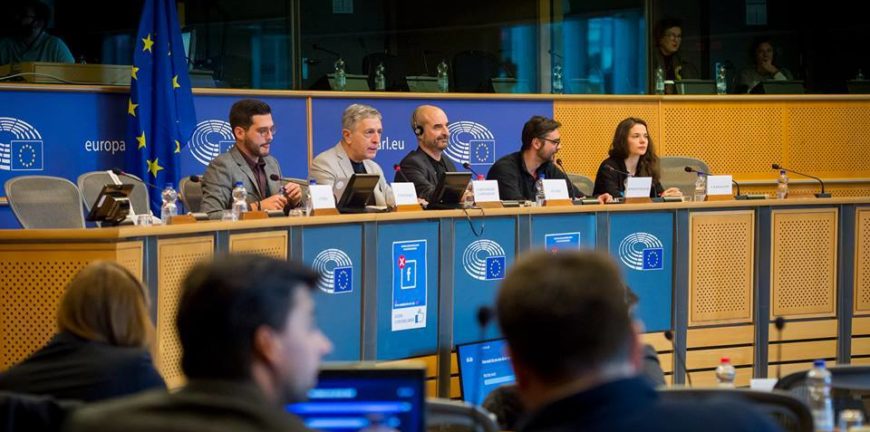 Created Date: November 12, 2018
Author: Homo Digitalis
Comment(s): 0
Homo Digitalis in the European Parliament
On the 8th of November a conference on "Facebook and other social dangers" took place in the European Parliament. The conference was held by the parliamentary committee of the Greek member of the European Parliament, Mr. Stelios Kouloglou. Homo Digitalis was invited by Mr. Kouloglou and was represented by Anastasia Karagianni.*
The presentation by Homo Digitalis focused on hate speech and child protection on the Internet.
Specifically, in the first place we developed the definition of the hate speech and the ranges that it is based on. Subsequently to mentioning the European legal framework on constraints of the hate speech, we accentuated the role of the European Union. In particular, the Members of the European Parliament have undertaken considerable action by appealing to the European Commission for the creation of a European mechanism, which will promote legislative measures with the aim of an improved privacy regarding children's personal data.
Despite the fact that children are considered as 'digitally educated', they do not possess the indispensable mechanisms for their self-protection on the internet, such as the spam exclusion and critical evaluation of the content they get in touch with. The necessity of parental consent, albeit essential for children's protection, is, in specific occasions, in conflict with the children's involvement in decision-making.
Among the renowned speakers, Cox Leonard, Qwant's Vice-President for International Relations, kindly thanked Homo Digitalis for mentioning Qwant Junior as an alternative child-friendly web search engine.
In addition, the member of European Parliament Cornelia Ernst deemed significant our reference to children's consuming relation with the social media and the necessity to protect their privacy.
In conclusion, we would like to express sincere thanks to Mr. Kouloglou and his team, who invited us as Speakers and gave us in this way the opportunity to broach the matter of children's digital rights in social networks.
* Anastasia Karagianni is a lawyer with expertise in children's digital rights. She is a member of Homo Digitalis and co-Creator of ChildAct with the aim of protecting children's digital rights.