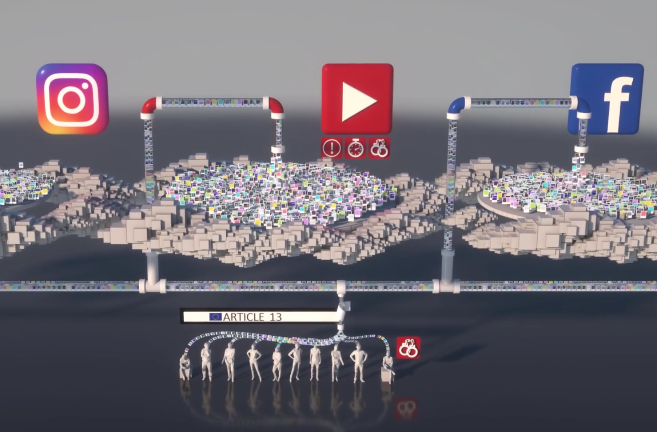 Created Date: February 25, 2019
Author: Homo Digitalis
Comment(s): 0
Pledge2019.eu: Voters poised to make upload filters a dealbreaker in EU elections
Millions of Europeans are on record rejecting "upload filters" on the internet, which the European Parliament is set to vote on just weeks ahead of the EU elections. Today, Austrian digital rights NGO epicenter.works and partner organisations from across Europe, including Homo Digitalis, are launching the campaign Pledge2019.eu, inviting representatives to pledge to reject upload filters, and voters to reach out with a clear message: We will only vote for politicians who vote against this attack on our freedom of speech.
Pledge2019.eu allows voters from all EU member states to call their representatives free of charge and ask them to pledge to reject Article 13 of the controversial EU Copyright Directive.
"Europeans have made their opposition to upload filters crystal clear in a petition that is closing in on a record-breaking 5 million signatures. However, a malicious rumor circulating in Brussels dismisses these concerned citizens as 'bots'. That made it necessary to empower voters to speak directly to their representatives, removing all doubt that they are real and that this issue is of real consequence to them", says Bernhard Hayden, copyright expert at epicenter.works.
"Article 13 threatens the foundations of the free and open internet", Hayden explains: "It will leave websites and apps no choice but to install upload filters, effectively censorship machines that must approve anything users wish to post or upload. Levied with the impossible task to prevent any and all copyright infringement before it happens, these filters will inevitably block thousands of legitimate acts of free expression. Diversity online is additionally at risk as small platforms may cave under the onerous obligations and legal uncertainty."
The final vote in the European Parliament may take place as early as March, with the exact date yet to be announced. The 751 representatives from 28 member states will have the option to reject the entire project or remove the most controversial articles.
"The opposition to Article 13 is not fake, it's not mere clicktivism, and it's certainly not in service of any corporate interest – it's Europeans participating in EU democracy and standing up for their fundamental rights. Seven years ago, citizens successfully defeated the ACTA treaty. This year, they will again make their voices heard", says Hayden.
Homo Digitalis participates additionally in the #SaveYourInternet campaign.
Watch the campaign's video!