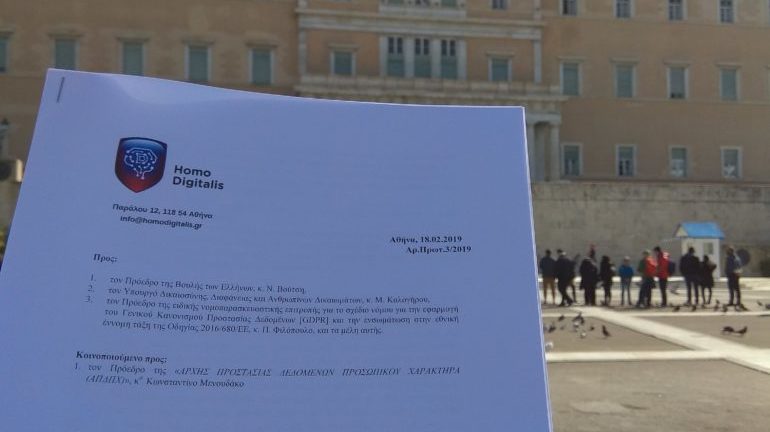 Created Date: February 18, 2019
Author: Homo Digitalis
Comment(s): 0
Homo Digitalis proposal on the Draft Law on Personal Data
On 18 February 2019, Homo Digitalis submitted a proposal for an amendment to the Draft Law on Personal Data Protection, implementing the General Regulation (EU) 2016/679 and incorporating Directive 2016/680/EU.
Specifically, Homo Digitalis proposed the inclusion on the Draft Law of the provision article 80, paragraph 2 of the GDPR. The provision provides that the described non-profit bodies regardless of any conferment by the data subject, meaning without his command, could:
-have the right to lodge a complaint with the supervisory authority (DPA in Greece)
-have the right to effective judicial redress against a legally binding decision of the supervisory authority (DPA in Greece)
-and have the right to effective judicial remedy against a controller or processor.
We consider that the adoption of the provision of GDPR Article 80, paragraph 2 is particularly important for non-profit bodies in Greece, as Homo Digitalis, to act as enforcement bodies and guards for the strict implementation of the law for personal data and to defend the rights of the data subject. The financial crisis that plagues Greek society in recent years, makes it particularly difficult and unsustainable for citizens to bear the cost for claiming their rights. Therefore, the paramount protection for data subject's rights from abuses of natural and legal persons will be achieved through the establishment of rules that enable, under the EU legislator's recommendations, non-profit bodies to act independently and without being subject to the need for relating assignments and mandates.
It is recalled that Homo Digitalis had submitted an open proposal on 20 April 2018, addressed to all Members of the Greek Parliament.
The proposal was notified to the President of the special regulatory Committee for the draft law on the implementation of the General Data Protection Regulation (GDPR) and the incorporation into the national law of Directive 2016/680/EU, Mr. P. Filopoulos, and the members of the committee, to the President of Greek Parliament, Mr. N.Voutsis, and to the Minister of Justice, Transparency and Human Rights, Mr. M.Kalogirou.
We are very optimistic that the proposal of Homo Digitalis will be seriously taken into consideration and the provision of paragraph 80, paragraph 2 will be incorporated in the final draft law.
You can read the proposal of Homo Digitalis in Greek here.