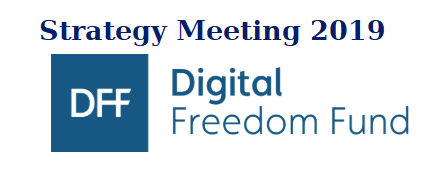 Created Date: February 24, 2019
Author: Homo Digitalis
Comment(s): 0
Homo Digitalis at the annual meeting of Digital Freedom Fund
Homo Digitalis had the pleasure and honour to participate at the annual developing strategy meeting, by the organisation Digital Freedom Fund in Berlin. The most prominent civil society organizations at Member State level of the Council of Europe took part in the meeting, focusing their attention on the protection of human rights in the digital era.
Representatives from 48 organisations, including our co-founder Lefteris Chelioudakis, exchanged views and planned future joint actions in sectors, such as the interventionism of national law enforcement authorities through the use of new technologies (face identification systems, algorithmic profiling, video camera applicable to human body), net neutrality and the implementation of the provisions of the General Data Protection Regulation (GDPR).
The meeting lasted two days and our organisation had the opportunity to create new alliances and to share ideas and knowledge with specialists from the sector. Our warm thanks to the organisation Digital Freedom Fund for inviting us to take part. Homo Digitalis is the first Greek organisation invited to this meeting.
Following the two-day meeting, a consultation with the United Nations Special Rapporteur on extreme poverty and human rights Mr. Philip Alston, which Homo Digitalis had also the honour to attend. Discussions on issues concerning the digital services of a welfare state, the negative effects of the automated decisions and the use of algorithms also took place.