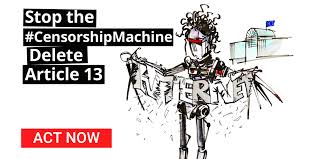 Created Date: March 13, 2019
Author: Homo Digitalis
Comment(s): 0
Free and open Internet needs you!
There are two days left until the last vote in the European Parliament (possibly on 26.03.2019), which will be crucial for the future of the Internet. More than one hundred Members of the European Parliament (of which the only Greeks are Ms. Sophia Sakorafa and Mr. Nikolaos Chountis) have already committed to vote down Article 13, while citizens in more than 23 cities in Member States of the European Union raise their voices in demonstrations against Article 13.
Many European citizens have participated until now in the campaign Pledge 2019. Since the end of February, when the campaign started, more than 1200 calls and 72 hours of discussion have been carried out. The specific numbers are unprecedented for such a short period of time and conclusively prove people's active interest and their will to be part of the political debate, when the step is given. Also, citizens in this way express their disappointment about unfounded accusations that many emails and tweets sent the previous period to MEPs have been actions of fake automated accounts!
Numerous experts have been sounding the alarm about the consequences of Article 13 and the uploading filters for Freedom of Expression and Information on the Internet and its diversity:
– The United Nations Special Rapporteur on Freedom of Expression and Information, David Kaye, has substantially expressed his contradiction to Article 13.
– The Federal Commissioner for Personal Data Protection of Germany, Ulrich Kelber, has clearly stressed that Article 13 leads to a tremendous growth of giants of online services and creates challenges for the protection of privacy on the Internet.
– The Minister for Justice and Citizen's Protection of Germany, Katerina Barley, has invited German Members of the European Parliament to vote down Article 13.
– 169 specialised and prominent academics in the field of intellectual property, have underlined that the provisions of Article 13 are misleading.
– The International Federation of Journalists (IFJ) has invited European legislators to improve the provisions and put the necessary balance between the Protection of Intellectual Property and the Protection of Freedom of the Expression and Information.
– Sir Tim (Tim Berners-Lee), one of the creators of World Wide Web has openly expressed his contradiction to Article 13 and the risks caused to open Internet.
Nobody can claim that he/she didn't know the significant negative effects of Article 13! We should act and persuade MEP's to set aside the several political interests and defend European citizens' rights!
Finally, many people are expressing their dissatisfaction with Article 13 and its very serious effects. More than 100,000 people have participated in the demonstrations that took place in many European countries on Saturday 23 March.
 Call your representatives in the few days left!

 Ask them to vote down Article 13!