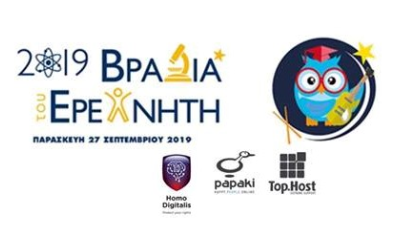 Created Date: September 22, 2019
Author: Homo Digitalis
Comment(s): 0
Homo Digitalis at Researcher's Night 2019!
After the successful conclusion and Homo Digitalis's participation in the Researcher's Night 2018 in Athens, our organization is delighted to participating in the Researcher's Night 2019 in Heraklion of Crete!
The event will take place on Friday 27 September 2019 from 17:00 p.m. to 23:00 p.m. in the premises of the Foundation for Research and Technology – Hellas ("FORTH") and the entrance is free of any charge.
We want to wholeheartedly thank Papaki and Top.Host for the collaboration in preparing this event.
You are more than welcome to come to this interesting event and meet with Homo Digitalis team and enjoy a night of awareness and knowledge. Your presence is highly appreciated!
For more information on Researcher's Night 2019 and other events in Greece during the Researcher's Night 2019 click here.