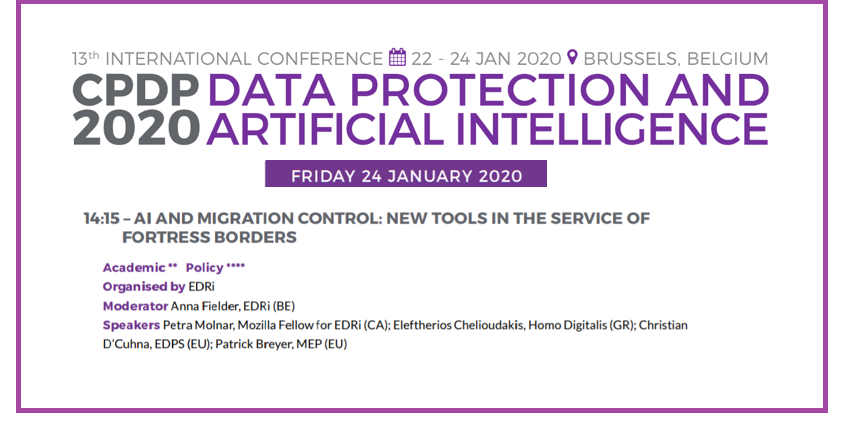 Created Date: January 17, 2020
Author: Homo Digitalis
Comment(s): 0
Homo Digitalis particates in CPDP 2020
On January, 24 Homo Digitalis will have the great honour to participate in Computers, Privacy, Data Protection (CPDP) 2020, the most prominent conference in Europe on ethical and legal issues regarding new technologies.
This year, the conference will focus on the use of Artificial Intelligence and its consequences on personal data protection.
Our organization will contribute to a panel held by European Digital Rights (EDRi) on "AI and Migration Control: New Tools In The Service Of Fortress Borders"
Head of the panel will be Ms. Anna Fielder, EDRi President.\
The members of the panel will be:
– Petra Molnar, coordinator of the Human Rights program in the Faculty of Law of Toronto and EDRi – Mozilla Open Web Fellow,
– Christian D'Cunha, Director of the personal office of  the European Data Protection Supervisor -EDPS,
– Patrick Breyer, Member of the European Parliament with European Pirates.
Homo Digitalis will be represented by Mr. Eleftherios Chelioudakis, one of the co-founders of our organization and Secretary of the Board.
The panel will take place at 14.15. If you are in CPDP, come to meet us!
The full schedule of the conference is available here.
It is worth noting that more Homo Digitalis members have taken part in CPDP in the past, representing the organizations they work for.