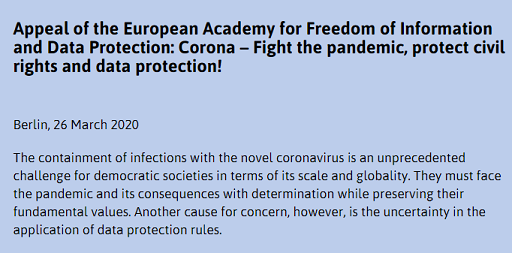 Created Date: March 29, 2020
Author: Homo Digitalis
Comment(s): 0
Homo Digitalis signs the ΕΑΙD Declaration
On 29 March, Homo Digitalis signed the European Academy for Freedom of Information and Data Protection (ΕΑΙD) Declaration on personal data protection and freedom of information during the COVD-19 pandemic.
The letter calls all of us to stay vigilant so that the encounter of COVID-19 measures does not violate human rights. The civil rights and liberties are inherent to modern democracies and should be protected even under the serious pandemic we are facing.
Many prominent scientists and human rights advocates sign the declaration.
The declaration is available here.