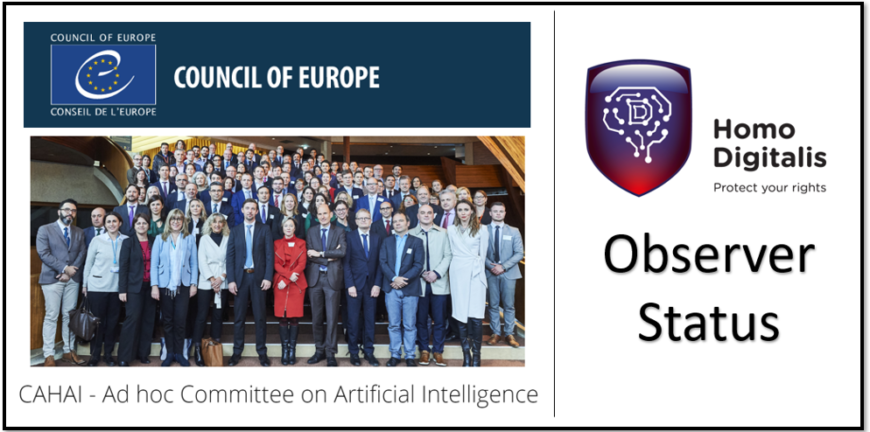 Created Date: July 04, 2020
Author: Homo Digitalis
Comment(s): 0
Homo Digitalis becomes an observer member at CAHAI
Our organization is proud to have become observer member to the CAHAI – Ad hoc Committee on Artificial Intelligence of the Council of Europe.
Under the authority of the Committee of Ministers, the CAHAI is instructed to examine the feasibility and potential elements on the basis of broad multi-stakeholder consultations, of a legal framework for the development, design and application of artificial intelligence, based on the Council of Europe's standards on human rights, democracy and the rule of law.
The Committee consists of representatives of the 47 Council of Europe members and representatives of states, such as Canada, japan, Mexico, USA, Israel, the Holy See. Furthermore, representatives of other CoE bodies participate in the Committee, as well as representatives of international organizations (including the EU, UNESCO, OECD, OSCE). Finally, representatives of private companies, academia and civil society organizations contribute to the success of the Committee.
Homo Digitalis was accepted as observer-member to the Committee by the end of June.
We are very pleased to have the opportunity to participate in the Committee plenary on 6-8 July, which will take place as a teleconference. Eleftherios Chelioudakis, co-founder of our organization, will represent Homo Digitalis in the meeting.
We would like to warmly thank the members of the Committee for accepting our application unanimously.