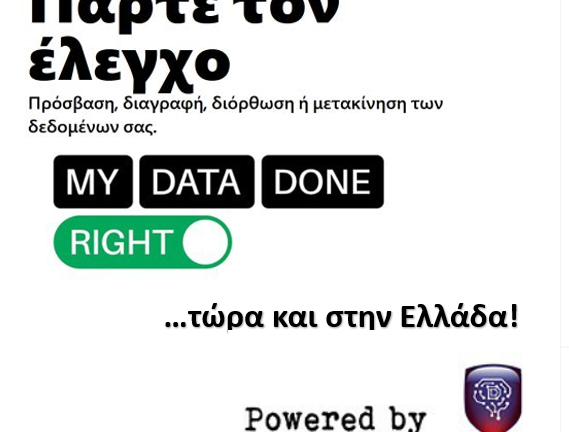 Created Date: September 01, 2020
Author: Homo Digitalis
Comment(s): 0
Homo Digitalis brings "My Data Done Right" to Greece
Since September, 1 the platform "My Data Done Right" is available for use in Greece.
The platform intends to help users exercise easily and rapidly their rights under the GDPR.
The platform helps users to exercise the right to access, rectification, erasure and data portability. Homo Digitalis has added more than 150 Greek-based organizations in the platform, enabling Greek users to contact them and exercise their rights. The said organizations include banks, air companies, political parties, clothing companies, supermarkets and many more.
Homo Digitalis is proud to have collaborated with Bits of Freedom, which started the platform in the Netherlands in 2018, in order to bring it to Greece. Apart from the Netherlands and Greece, My Data Done Right is available in Austria, Belgium, Germany, UK, Spain, Italy, Portugal, Romania, Sweden and Serbia.
We warmly thank the members of the Homo Digitalis team, namely Stergios Konstantinou, Konstantinos Kakavoulis, Eleftherios Chelioudakis, Christianna Andreou, Antigoni Logotheti, Dimitris Ntosas, Marina Zacharopoulou and Theodora Firingou.
You may use the platform here.