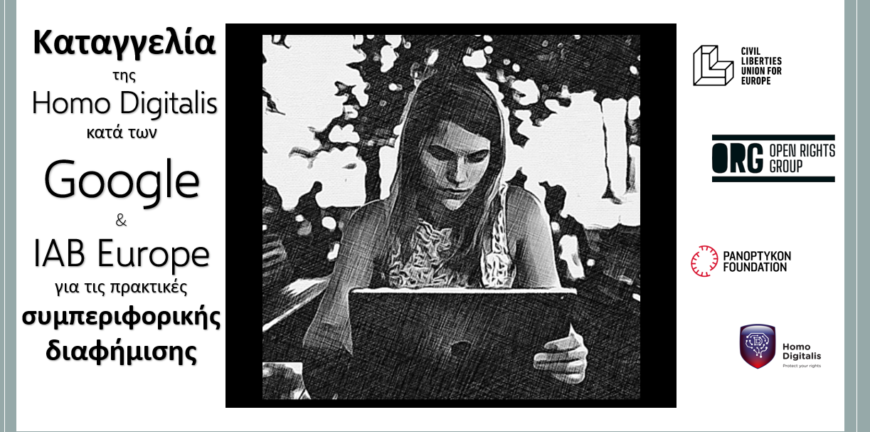 Created Date: December 10, 2020
Author: Homo Digitalis
Comment(s): 0
Homo Digitalis files a complaint against Google and IAB Europe for their harmful practices of behavioral advertising
Today, Homo Digitalis joined forces with other civil society organizations, namely Asociatia pentru Tehnologie si Internet (ApTi) from Romania, D3 – Defesa dos Direitos Digitais from Portugal, GONG from Croatia, Global Human Dignity Foundation from Malta, and the Institut d'information de Chypre from Cyprus. At the same time this morning, we lodged a complaint with the competent regulatory authorities of our countries against the harmful practices of Google Ireland and IAB Europe in the field of online behavioral advertising.
More specifically, within the behavioral advertising industry, fast, automated real-time auctions (real-time bidding, or 'RTB') take place, during which technology companies representing advertisers compete for their ads to appear in the advertising space of a website or an application. These RTB auctions currently operate through the retransmission of the personal data of each user who visits a website / application.
Simply put, IAB Europe and Google's RTB systems broadcast private activities for everything we do and watch online, as well as where we are in the real world, in a large number of companies, hundreds of billions of times every day. More specifically, Google's RTB system is active on millions of 13.5 sites, while IAB's RTB system is active on countless others. Thus, the RTB systems of IAB Europe and Google entail a huge and ongoing breach of the legal framework for the protection of personal data.
These complaints are on top of another 15, filed in 2018 and 2019 in the following countries: Belgium, Bulgaria, France, Germany, Estonia, United Kingdom, Ireland, Spain, Italy, Luxembourg, the Netherlands, Hungary, Poland, Slovenia And the Czech Republic. Based on these complaints, investigations have already been launched by the competent supervisory authorities. This action has been organized by an alliance of organizations, namely the Civil Liberties Union for Europe (Liberties), Open Rights Group (ORG) and Panoptykon Foundation.
Some important first comments from members of Homo Digitalis and other organizations involved in the action:
Elpida Vamvaka, co-founder and President of Homo Digitalis, reports
"Google's RTB systems and IAB Europe result in widespread and systematic breaches of data subjects' rights. We call on the Hellenic DPA to take action and work with the other supervisory authorities at European level to help end such abuse."
Eleftherios Chelioudakis, co-founder and Secretary of Homo Digitalis adds:
"The RTB industry relies on a voracious collection of different categories of personal data, which sets under the microscope every aspect of our online behavior. In particular, an ecosystem has been created in which personal data is retransmitted to a huge number of companies without the data subjects having any knowledge and control over their further data processing operations."
Finally, Dr. Orsolya Reich, Union of Civil Liberties for Europe (Libertés), emphasizes that:
"Real-time bidding, which is the bedrock of the online advertising industry, is an abuse of people's right to privacy. The GDPR has been in place since 2018 and it is there precisely to give people a greater say about what happens to their data online. Today, more civil society groups are saying enough with this invasive advertising model and are asking data protection authorities to stand up against the harmful and unlawful practices they use."
An English Q&A text for the general public is available here.
The full text of our complaint (reg. number 8478 / 10-12-2020) as filed before the Hellenic DPA is available here.