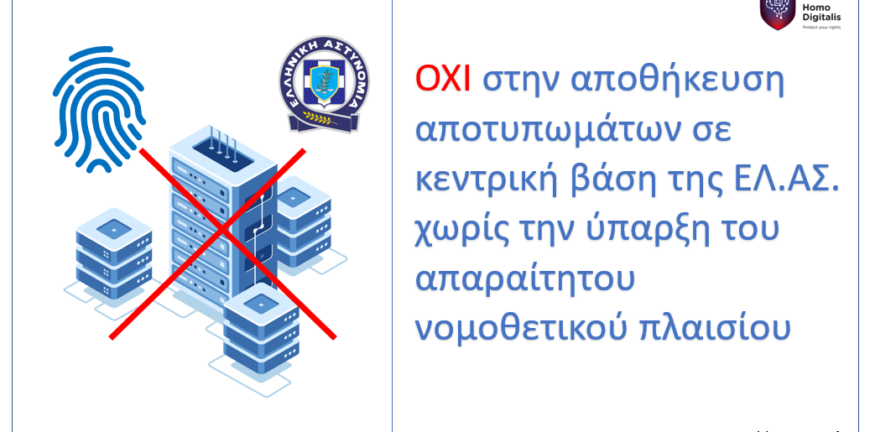 Created Date: June 10, 2020
Author: Homo Digitalis
Comment(s): 0
Two strategic complaints of Homo Digitalis against the Greek Police
Homo Digitalis has filed 2 strategic complaints with the Hellenic Data Protection Authority (DPA). The complaints are directed against the Greek Police and concern the storage on its part in a central database of the fingerprints of all holders of Greek passports.
With its 2 complaints (reg. number. 3721/01-06-2020 & 3767/02-06-2020, respectively) Homo Digitalis examines the following sub-issues:
The legality of the storage of fingerprints by the Greek Police in its central database and the refusal to delete such personal data.
The Police claims that Presidential Decree 178/2014 allows the storage of the fingerprints of all Greek passport holders in its central database. However, Homo Digitalis argues that the provisions of the Presidential Decree:
– do not refer to the storage of fingerprints in a central database,
– are not in line with recent strict legislation in the field of personal data, and
-do not provide the necessary safeguards to offset the risks of the rights of citizens holding Greek passports.
2. The delayed fulfillment by the Police of the right to information of the data subjects regarding the processing of their data and the way of exercising their rights.
The Police should have published on its website from the end of August 2019 all the necessary information set by Law 4624/2019 to inform what are the rights of data subjects and how these rights can be exercised in practice. However, EL.AS. published this information after 6 months. Homo Digitalis claims that this lack of information created confusion among data subjects about the ways in which they could exercise their rights and significantly delayed their submission of access requests to the Hellenic Post.
3. The representation of data subjects before the Hellenic DPA by civil society organizations, such as Homo Digitalis.
European law obliges EU Member States to allow data subjects to be represented by organizations such as Homo Digitalis when they consider that the protection of their personal data is being violated by police authorities. However, Greek law has not included the relevant provision. Homo Digitalis considers that this shortcoming is a significant violation of European law and acts as a deterrent to the protection of personal data of subjects.
The above two complaints are urgent due to the category of data that are being illegally processed by the Greek Police. (biometric data / fingerprints), as well as the large number of subjects involved in the illegal processing (total holders of Greek passports). Homo Digitalis asked the Hellenic DPA to consider the complaints as an immediate priority.
You can find a brief and understandable information in the form of illustrations regarding the specific complaints here.
You can read the detailed legal analysis regarding the specific complaints here.
This action was carried out completely voluntarily by a group of professionals and scientists, members of Homo Digitalis, without any funding from public or private bodies. If you want to support our actions you can do it here.