Created Date: April 18, 2021
Author: Homo Digitalis
Comment(s): 0
We evaluated the applications we use with the CAP-A tool
We evaluated the applications we use with the CAP-A tool
With the pandemic of Covid-19 expanding uncontrollably, we were forced, in a short time, to get acquainted and make part of our daily life applications that we did not know before, such as Skype for Business, Zoom or MS Teams in order to facilitate our work even our social and personal contacts.
At the same time, we continue to use social networking platforms to communicate with relatives and friends while we or our children play online games.
Have we ever wondered how many of the applications we use every day respect the privacy of their users and whether the General Data Protection Regulation (GDPR) is properly implemented?
Why, for example, do these applications request access to our contact list and photo album? Is it always necessary to access our microphone and our exact location?
Recently, the Information Systems Laboratory of the Institute of Computer Science of the Foundation for Research and Technology (FORTH) on the occasion of the CAPrice initiative approached HomoDigitalis in order to create an "awareness movement" about the consequences that digital technologies may have on privacy.
The aim is to create a community open to all in which active citizens will participate, without necessarily specialized knowledge in technology, but with a willingness to seek and apply practical solutions to privacy issues.
To make this possible, the CAP-A Portal platform was used, which among other things provides a Privacy Policy Document Annotator. This platform was developed by the Institute of Informatics of FORTH in collaboration with the company IN2 and in the framework of the European project CAP-A funded by NGI-Trust. The Annotator gives the user the opportunity to point out and comment on specific points of the terms of use and the Privacy Policy assessing compliance with the Regulatory Framework for the protection of our digital rights.
Through this platform, members of HomoDigitalis undertook to evaluate and comment on the Privacy Policy or applications known to all of us, such as Facebook, Instagram, Skype, Messenger, WhatsApp, Google Meet, Google Chrome, Slack, Trello, Asana and even games like League of Legends or Call of Duty based on specific criteria set by the platform!
Thus, the first two pilots of FORTH ran in collaboration with Bora and Safer Internet for Internet for kids but also the valuable contribution of Homo Digitalis.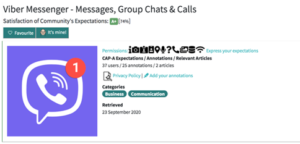 In this photo you can see what licenses the viber users give, how many users have evaluated the application, how many annotations have been made and how many related articles they have linked.
The ultimate goal was to propose solutions to privacy issues that concern us on a daily basis, as due to the large scope and difficult content of the Privacy Policy, most – especially those unfamiliar with privacy issues – give our "blank check" for the processing of our data without having exactly understood what it consists of, for what purposes it is carried out and what exactly the creator of each application seeks from it.
For example, when we click "I agree to the Terms and Conditions" without of course having read them, do we know that we consent to the application having access to our contacts, our location and even the microphone or camera of our device?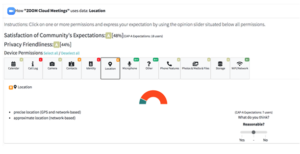 The information collected from the use of the platform is used to export and configure statistics regarding the "friendliness" of applications related to the protection of user privacy and the formation of a secure internet that respects our rights.
The trust shown to us by FORTH, the largest research institution in Greece, and the Cap-A team, honors us and pushes us to act collectively once again, in order to form a pillar of important developments for the shaping of modern digital affecting a number of rights and freedoms in the digital space.
Note: The CAP-A application is also available in the Play Store for Android Software, thus making it possible for more users to use the application and to evaluate applications that they use on a daily basis.
See here how you too can evaluate the applications you use and thus contribute to enhancing the privacy of all of us!
The HomoDigitalis team involved in the project consisted of the following members: Elpida Vamvaka, Adamantia Volikou, Eva Davaki, Marina Zacharopoulou, Stefanos Tampis, Stergios Konstantinou, Antigoni Logotheti, Mariliza Baka, Magdalini Skondra, Lefteris Stavra
Sources:
https://www.caprice-community.net/

https://saferinternet4kids.gr/nea/cap-a/

https://cap-a.eu/new-cap-a-pilot-bora-business-apps/

https://cap-a.eu/portal/#stats2.2